Winter
About the Farm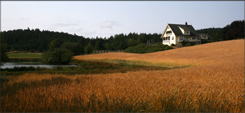 Parry Bay Sheep Farm is a mixed farm that has been operating for nearly 40 years in the Metchosin area. We also lease pasture land throughout the region, so our sheep can be seen grazing in the Highlands, Central Saanich and View Royal. We provide lamb year round to many fine butcher shops and restaurants in Victoria. Our wheat, grown cooperatively with Stillmeadow Farm, is used by Portofino and Wild Fire Bakeries to make their wonderful whole wheat breads.
We strive to farm in a sensible and sustainable way. We use manures as much as possible for nutrient on our fields, and rotate crops for maximum soil health. It has been great fun to continually experiment with different farming methods, including heritage grains.
Follow us on Facebook!
We'd love for you to "Like" us on
Facebook
! Keep up with the latest news, share recipes, and hear what other Parry Bay Sheep Farm customers have to say.